Tim Harden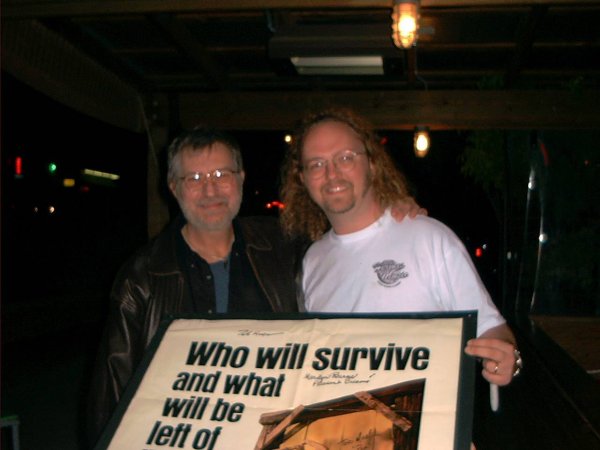 On October 29,2001, Tobe Hooper hosted a screening of TCM at a place in Austin, TX called Jo's Hot Coffee on 1300 S. Congress. Click HERE to see the ad that ran in the Austin Chronicle about the event.
I had called Paul Partain and invited him out to the event. He responded by saying that he would see us there.
Cheri and I arrived at Jo's about 6:45 PM and setup our lawn chairs. I immediately recognized Bob Burns at the event (the art director of TCM). He was dressed in a tux with a blow-up balloon of a chainsaw cutting through the top of his skull. When asked where he found such a hat, he said that he found 3 of them at a small shop near where he lives.
Tobe Hooper was at the front of the cafe signing autographs and his 8x10's. I had brought several of my materials to be signed and I introduced myself. He was VERY NICE and signed everything with caution, being sure the pens worked, the positioning of the autograph, etc. I told Tobe that I had invited Paul Partain to the screening, and he said that he has not seen Paul since they filmed TCM. Later, I went back to our chairs where the show was about to begin. At about 7:05 PM, Tobe was introduced and he simply said a thanks for coming and to enjoy the show. It wasn't much later than this that Paul "Franklin Hardesty" Partain waltzed in and we offered the chair next to us for him to sit in.
I have to say that one of my long-time ambitions has been to sit next to a cast member and watch TCM. Paul said that he had not watched the movie in about 5 years. I asked how he felt about his performance after all of these years. He said that he is VERY pleased with it. Many small stories were volunteered by Paul to me, such as the shot with him in the wheelchair arriving at the grandparents house. The scene where he first struggles up the ramp, spits out the sausage and says, "SALLEEEEYYYYYY" was the very first scene he ever shot for the movie. Also, the line where Bill Vail says in the dry creek, "Franklin was never small" should have been, "Franklin was never a small boy". He simply "flubbed" the line and it was kept in the movie. Other small stories were shared, and as I think of them, I'll post them here.
During the feature, Paul and I had a great time watching people who had never seen the film before cover their eyes and jump at scenes from the movie. At one point, a lady had covered her eyes at the part where Franklin gets cut by the Hitch Hiker. Paul laughed at this and walked over to her and whispered something in her ear. Later, my wife Cheri went to her and asked if she knew that the man that just walked up to her was Paul Partain and she did not know this.
Paul sat with us until his character got killed. At which point he got up and said, "Boy I'm glad that whiney bastard's dead!" Since Tobe and Paul had not seen each other since the making of the film, Paul went to go talk to Tobe until the film was over. Once the film was done, everyone headed to Tobe and Paul for autographs. I watched someone bring the new 18" Leatherface figure in and both Tobe and Paul signed it. It was at this point that I packed up our lawn chairs and grabbed my original Bryanston poster for Tobe to sign. He was very impressed that it was an original, that Allen Danziger (who played "Jerry" the van driver in TCM) had given it to me personally, and all the signatures that I already have on it. And my wife took the above photo.
Great fun! Wish you could have been there!
© 2004 Tim Harden timh@texaschainsawmassacre.net