HEADCHEESE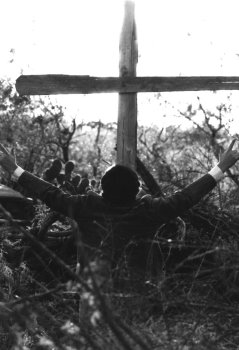 What is HEADCHEESE?
HEADCHEESE was the original name given to 'Texas Chainsaw Massacre' by Tobe Hooper and Kim Henkel before they settled on the final title. But for today and forever, HEADCHEESE is now known as the 22 minute film by Duane Graves and Justin Meeks.
HEADCHEESE is a film about a man who is possed by an internal demon and makes a pilgrimage to Quick Hill to confront and try to expel the demon. It was inspired by a chapter and verse from the Bible, Luke 8:29. Let your mouse 'linger' over the above picture and you can read the passage for yourself.
Several nods to 'Texas Chainsaw Massacre' are made during the feature, but this movie is NOT about TCM. For the TCM fan, you will see a LOT of Quick Hill, the gas/BBQ station, County Rd. 172 (Quick Hill Rd.), the cemetery and another surprise - if you can spot it! Even Kim Henkel, the co-writer of 'Texas Chainsaw Massacre' was brought on board as a co-producer.
But again, this movie is NOT about TCM, nor is it a remake of it. The main character, Legion, played by Justin Meeks, puts on a wonderful one man show as he probes his inner demon in hopes it can be released. He finally confronts the demon and the resolve is astounding.
I HIGHLY recommend that everyone see this film. It will appeal to the TCM fan as well as the film enthusiast. At this time, HEADCHEESE is being pitched at some major film festivals. Duane Graves, the film's co-producer, is no stranger to film festivals. His previous feature, 'Up Syndrome', collected several film festival awards. I have seen 'Up Syndrome' myself, and I have to say that it is the most enlightening movie I have ever seen that deals with Down Syndrome. Duane, Justin and his crew are EXTREMELY talented and I feel very lucky to know these men and I hope to be involved in their next project.
And THANKS for my credit in HEADCHEESE guys! (;->)
RELEASE INFORMATION
HEADCHEESE will be released on DVD on January 14th, 2003. Look in stores such as Best Buy, Suncoast, Fry's, or any dot com place that sells a wide variety of DVD's. The film is packaged with a full length feature film called "Freak", so you will have to look for or ask for a DVD film called "Freak" to get HEADCHEESE. The cover art has several pictures of Justin as he is playing his character, Legion, in the film along with a paragraph synopsis. The inside booklet has some info about the TCM site locations, the production process and several more photos. Kim Henkel, the original co-writer of TCM, wrote a paragraph forward about the crew of Trisomy Films and HEADCHEESE. There is even an audio commentary with Duane Graves and Justin Meeks.
But don't forget to see a credit to me, Tim Harden, and my web site in the film!
http://www.headcheesemovie.com
Their web site contains many pictures from the film, a complete online press kit, a trailer and other valuable information.
GO THERE NOW!!!
You can also visit http://www.trisomyfilms.com.