The Music of Texas Chainsaw Massacre
The music and soundtrack that accompanied the movie was made up of 7 original songs by different Texas artists and an original background effects track by Tobe Hooper and Wayne Bell. There is no official release of the sound track and there may never be one. Roger Bartlett, who wrote and sang the song "Fool For A Blond", and I, had been in the process for over a year tracking down the original artists to begin the process of making an "official soundtrack" to the movie. But because of circumstances beyond our control, mostly to do with the copyright owners of the movie, enthusiasm on their part for participation in the project was non-existent. Therefore, I have decided to open this new section of my web site on the music of Texas Chainsaw Massacre and a "Where Are They Now?" of the artists.
It is also the hopes of Roger and I that the artists that we have not been able to track down may come across my web site and contact me. A big part of my web site is to promote everyone associated with the film and eventually in some way put some cash in their pockets from the fans of TCM, for either their autographs (which I still do) or through other promotions. So it is my hope that Roger and I may at least be able to make the original songs available on this site or other sites for TCM fans to enjoy. Keep checking back to this page or my news page for updates on this topic. I'm currently focusing my efforts on making previously unavailable songs available for TCM fans to enjoy.
---
Roger Bartlett & Friends
"Fool For A Blond"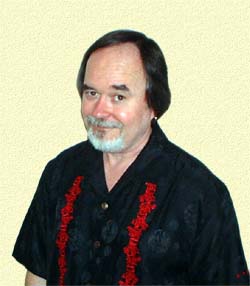 Roger's song, "Fool For A Blond", (also referred to as the "sidewalk cafe" song), is probably the most recognized and remembered song from the movie. Likely because of the infectious hook, "...spend most everyday in the sidewalk cafe..." This song's appearance in the film is when the kids in the van stop on the side of the road and pick up the Hitchhiker. Tobe Hooper said that he picked this song for that particular sequence because he imagined the Hitchhiker being a fool for Sally. Even though you may not have recognized that connection between the characters, the song delivers an upbeat lightheartedness atmosphere as the viewer of the movie watches a creepy hitchhiking stranger mutilating himself and Franklin. Which is quite a strong contrast between what you are hearing and seeing.
Roger: "The song is actually about sitting in a cafe called Les Amis in Austin watching the UT college girls walk by as me and Bill Callery drank coffee (and smoked pot). You might be interested to note that my wife (Arna) is a very pretty blonde. So I'm still a fool for a blonde. Not too deep a lyric, but one that's easy to relate to."
"I was living in Austin doing an acoustic duo with a guy named Bill Callery. (He wrote "Hands on the Wheel" on Willie Nelson's Red Headed Stranger album). We went up to Jim Inmon's studio, Hill on the Moon to record FFAB with a big group of people. To the best of my recollection it was me, John Inmon, Bill Callery, Bob Livingston, John Garza, Greg Valdespino, Frank Zigal and there might have been a few more people. The 70s are kinda foggy in my mind. We recorded it live in the studio, no overdubs. We did several takes and the one in the movie is the second or third take we did. The master stayed out at Hill on the Moon. Tobe Hooper dropped by out there and asked Jim if he had anything that might be good for the movie Tobe was working on and Jim played him a few cuts including FFAB. Tobe loved it and through Jim paid me $50 to use the song in the movie. I went to the world premier in Austin when it came out. It was quite an event. Limo, limo, pickup truck; limo, limo, pickup truck. That was how people arrived. No one had the slightest idea that it would be such a hit and turn into a horror classic."
And did you know that Roger is an original Coral Reefer from Jimmy Buffet's Coral Reefer band?
Today, Roger is a busy musician/producer of his own production company, Shoestring Productions.
Visit Roger's web site at http://www.rogerbartlett.com and download for FREE "Fool For A Blond" on MP3.
---
Timberline Rose
"Waco" & "Glad Hand"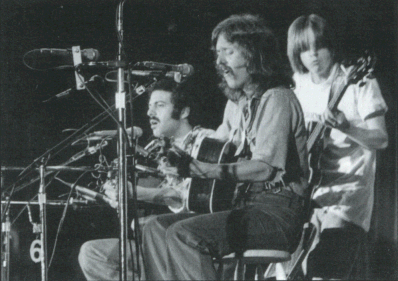 Jim Shulman (left) and Richard Dean (center) with bassist Robert McEntee (right)
as Timberline Rose at the Kerrville Folk Festival, 1973.
Timberline Rose was a 2, sometimes 3 person folk/country act that played in central Texas during the late 1960's and early 1970's. Their primary members as a duo were Jim Schulman and Richard Dean, both on guitars and vocals. Occasionally, they had a bass player named Robert McKentee.
I have been in contact with Jim on several occasions. He said that both of these songs were recorded live at local venues in Austin, Texas in the early 1970's. The master tapes for these songs now reside at Hill On The Moon Productions in Austin, Texas. The original members of Timberline Rose have not been in contact with each other in several years, and I am still looking to contact Richard Dean. Rumor has it that Richard moved back to his native state of Colorado several years ago.
The only commercially available music of Timberline Rose, to my knowledge, is on the Kerrville Folk Festival CD set of the history of previous artists since the festival's inception in 1972. To my knowledge, neither one of their songs that appeared in Texas Chainsaw Massacre are available in any format.
---
Arkey Blue
"Daddy's Sick Again" & "Misty Hours of Daylight"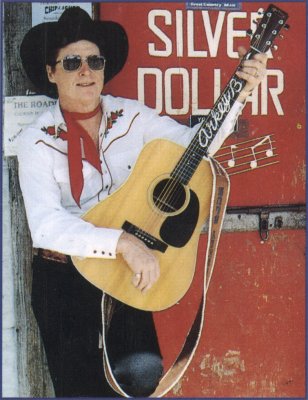 Arkey Blue is somewhat of a legend in Texas. He has been around singing his original country music since the late 1960's. He currently owns his own honky-tonk beer joint in Bandera, Texas called the Silver Dollar Saloon. You can still see Arkey playing his music at his venue to this day.
"Misty Hours of Daylight" is available for purchase from his web site at http://home.flash.net/~sundanc1/arkeys.htm on the CD entitled, "The Best of Arkey Blue". "Daddy's Sick Again" is not available on CD, and has only been made available on vinyl when it was first released. As with other artists who participated in the soundtrack of TCM, I'm pursuing to make both of his songs available on my site or other means.
FACTOID: Did you know that Arkey makes an appearance in the movie, "Race With The Devil" with Paul Partain singing "Misty Hours of Daylight"?
---
Los Cyclones
"Feria De Los Flores" (Parade of Flowers) & "Poco A Poco No" (Not Little By Little)
Unfortunately, I have close to "zero" information about this group. Again, it is my hope that either a band member or family relation may contact me on this topic.
---
Other Soundtrack

Besides the songs that appeared in the film, perhaps the most memorable sound effects in the movie were made by Tobe Hooper and Wayne Bell. They were created by various instruments ranging from cymbals to African instruments. For a more detailed outline of the instruments used, you can refer to the documentary by Exploited Films called "Texas Chainsaw Massacre - The Shocking Truth".
Wayne and Tobe created the creepy backing tracks by using the unconventional instruments and sound effects. And as such, the screeching you hear during Sally's encounter with the Grandparents and also at the very end of the credits is made with a pitch fork coasting along the edge of a table. For more information on this, go HERE. And as stated on that page, the film editing was done in Tobe Hooper's living room, as well as the sound editing.
---
It has been stated to me from both Tobe Hooper and Kim Henkel that neither one of them has any recollection of what happened to the original vinyl copies of the music used for TCM. Kim Henkel possesses the optical track which contains the master soundtrack to the film. Unfortunately, this track and any other significant copies of the film do not contain any audio track separation of the songs, the background music/effects and dialogue. The original film has only a single mono track with the master audio. There is no separation of songs, effects, dialogue, etc. The remastering that was supervised by Tobe for the DVD release of TCM was based souly on the original mono track originally recorded.