Documentaries of The Texas Chainsaw Massacre
Flesh Wounds: Seven Stories of the Saw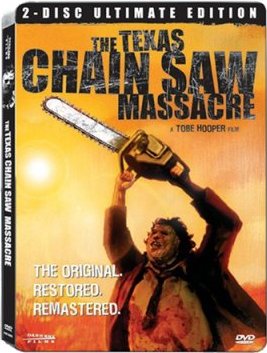 "Flesh Wounds: Seven Stories of the Saw" is a documentary included with the 2006 reissue of the Texas Chainsaw Massacre 2-Disc Ultimate Edition by Dark Sky Films. Flesh Wounds was created by Michael Felsher of Red Shirt Pictures in 2006.

I had the pleasure to meet and work with Michael over this project, as well as the TCM 2 documentary, "It Runs in the Family". Michael gave me several credits in Flesh Wounds, and credited me in It Runs in the Family as music consultant. I'll have more in this section about IRitF later.

Flesh Wounds is divided into seven different chapters about Chainsaw. Click on a screen cap for more info about the chapter.
---
TCM 2: It Runs in the Family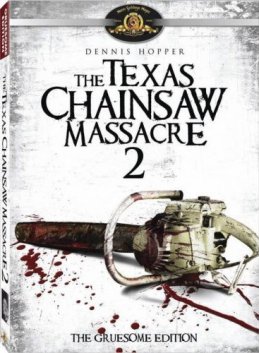 Coming Soon...
---
Return to Quick Hill - The Texas Chainsaw Experience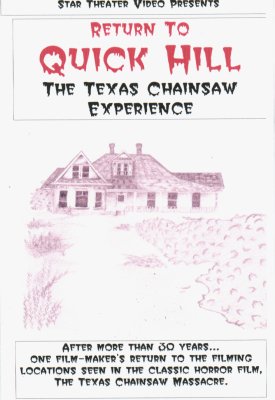 Jason Stewart and Robert Inman pulled off what I had been thinking of doing for several years - document with video the film locations of the original Texas Chainsaw Massacre. From the famous gas station to the infamous "Family" house, you can experience all the major filming locations and how they appeared in 2005. Forever now is preserved on film what the volatile locations look like. This is a must for those who have been to the locations, or those who may never be able to visit them in their lifetime.
Directed by first-time film maker, Robert Inman, a native Texan who once called Quick Hill home. Written and hosted by actor/writer Jason Stewart (of The Trespassers and The George Winkleberry Show fame). It also features music by original TCM composer, Roger Bartlett and an exclusive interview with Gunnar "Leatherface" Hansen.
The DVD also features a display of original Chainsaw merchandise, additional interviews and a few extra surprises.
The guys were kind enough to send me a copy of this wonderful documentary. I can only wish that I had done something like this - to document the filming locations before they are gone forever. I thoroughly enjoyed viewing the documentary. The guys display a flare for their love of the original film along with a refreshing approach to filmmaking from the amateur point of view. As you can tell, there are several documentaries out there to choose from, and there are yet more on the way in the commercial market. But it's a true Texas Chainsaw Massacre fan that can put out the most meaningful and enjoyable work for the rest of the TCM fans in the world.
I highly recommend visiting their web site HERE and placing your order for this rare and hard to find documentary.
---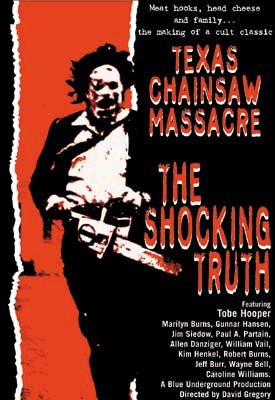 You can read my review of this video on this page.
Below are images of the DVD itself and the packaging that it comes in. Click on an image for a larger version.
A company called "Exploited Video" hailing from the UK spent several days in the US making a documentary about our favorite movie, The Texas Chainsaw Massacre. I have a credit as "Additional Research" and also in the special thanks. Since they've been in the states, they have talked to virtually everyone associated with the movie as they possibly can, including most of the cast and crew. They have interviewed Kim Henkel, Bill Vail, Allen Danziger, Gunnar Hansen, Paul Partain, Bob Burns, Ted Nicholau, Marilyn Burns, Jim Siedow, Warren Bell, Daniel Pearl, Robert Kuhn, and Caroline Williams. I'm sure I probably left someone out.
People that were not available for interviewing were Teri McMinn, John Dugan and Ed Neal.
The length of the video is 71 minutes. The DVD will feature some out takes, including added footage from Gunnar Hansen at the Old Town Grill and other out takes from the interviews. Several English television stations are talking to them about buying the video and airing it for public viewing. For that, they may include footage from the movie and cut the feature down to 45 minutes. So there is talk about releasing a "television" version eventually if this happens.
At this time, Exploited is hoping to have an American (NTSC) DVD release of the documentary in May of 2002. Not only that, but the DVD version will include additional interviews with Dottie Pearl (makeup artist for TCM) and Bill Moseley, who played "Chop Top" in the first sequel to TCM. The DVD release will be a 2 disc set.
In November of 2003, Paul Partain, Allen Danziger, Marilyn Burns and Bob Burns gathered to do an audio commentary track for the documentary. Which will be released with the newer version of this documentary by MTI Video. No release date has been set yet. To see a picture of the gang with David Gregory, the director, click HERE.
Paul Partain sent me an e-mail with his opinion about this documentary on 6/30/00.
"I got the video and I am now a fan. David & co. did a great job. They seem to want the same freedoms our ancestors fought a war to secure for us against the same government that is now 'proctecting the sensiblilities' of Dave and his fellow Brits. Interesting that this comes just before Independence Day.
Happy Fourth of July!
pp
Here are some pictures of David, Nathan and Jake of Exploited video at the Kingsland Old Town Grill with myself and Gunnar Hansen. On that morning, they took moving and stationary shots all around the house. Later, David and Nathan went in the house with Gunnar Hansen wired with a microphone and took shots of Gunnar giving a tour of the house while Jake and my wife and I waited outside. They had a 35mm camera and a video tape camera of a format that I am not familiar with. For more information on the Kingsland Old Town Grill (formerly the Leatherface house), click HERE!
Click on a thumbnail for a larger image.

After we journeyed to the Grill with Gunnar, we had to drop off Nathan who was flying to LA and we dropped Gunnar off back in Austin. The rest of us went to Bastrop to the gas station where they took shots of the place from inside and outside. I helped describe to them how the inside of the place had changed since the movie was shot there. On this day, the rain came and went all day long. For more info on the gas station, go HERE!
Also, Paul Partain sent me an e-mail with an interesting tidbit of information about the gas station/BBQ shack scene from the movie.
Tim,
Just took a look at the gas station on your web site. You said it was raining off and on or something to that effect when you visited the gas station. Same thing happened when we shot Chainsaw there. In fact, the part for the guy who was washing the windshield of the van was created to cover the changing light that was causing problems for our camera crew. At one point, the washer guy looks up at the clouds as the light changes......anyhow, I thought it was interesting that when you and Exploited visited the scene, you had the same experience......pp
Click on a thumbnail for a larger image.
Rick Balin gave me an issue of "The Hacker's Source" recently that has an interview with David Gregory. In it, the interviewer asks David many questions about the documentary. And my name is mentioned in the interview!
Below are the scanned pages of the interview. I have made great efforts into keeping the file size of the scans very small so that you will not have to spend much time downloading them. I'm currently working on doing an OCR on the images so that I will also have a text version of the interview available.
You can visit The Hacker's Source on the web at http://www.hackerssource.cjb.net. Go visit the web site and see a picture of David Gregory!
Click on an image for a larger version.
Updated 8/20/2006 - This interview is now available online at www.mjsimpson.co.uk/interviews/gregoryshaw.html.
Rick Balin also scanned in this article that appeared in the November, 2001 issue of Fangoria that also talks about TCM - TST.
Click HERE (256K) for the scan of the article.
---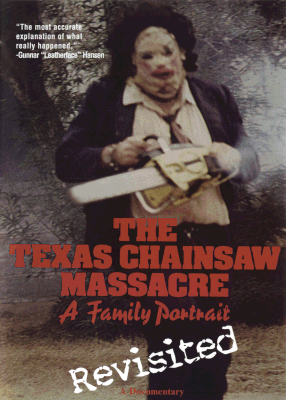 "The Texas Chainsaw Massacre: A Family Portrait" was a documentary made by Brad Shellady and released in 1986 by MTI Home Video. In 2000, MTI re-released the documentary in DVD format and added more features not previously available on the original 1986 VHS release such as the original theatrical trailer. Also, some computer enhanced video tricks were included in the DVD version. Perhaps to add more excitement to the already static images filmed by Brad. Unfortunately, no one went back to correct the focus problem that was encountered during Ed Neal's interview. It has been made known to me that this "glitch" occurred when a video format to video format transfer was incorrectly done by MTI Video.
Gunnar Hansen, Jim Siedow and John Dugan are all interviewed by Brad in their homes and Ed is interviewed along side a foreign poster of TCM. An interview with Bob Burns was also conducted during the making of the documentary but none of it was included in any release of the video. Also, there exists a very rare first-draft VHS box for this video. For a picture of it, click HERE.
Both the VHS and DVD releases are available for purchase from MTI Home Video. And at last check, Amazon.Com is also carrying the video in both formats.
---
© 2011 Tim Harden timh@texaschainsawmassacre.net